Post by Kyu on Jun 7, 2019 7:51:41 GMT
x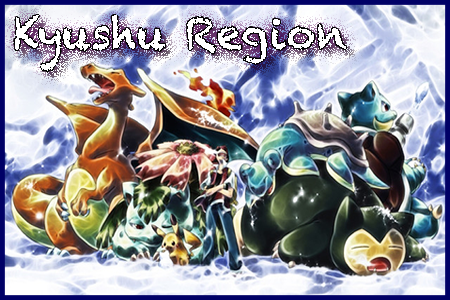 Clash of the Titans
Long ago the balance of nature was lost and the legendaries began to fight in a war to the death upon the seas. Earthquakes, thunderstorms, hail storms, volcanic eruptions, whirlpools, poisonous plants, special rifts, time stops and unwakeable nightmares spread across the land causing chaos and death. Humans and Pokémon came together to try to stop the madness but to no prevail.
One day a Pokémon was born from the waves and somehow steadied the balance of nature. It drew a line between the Pokémon preventing them from continuing. As the fight came to a close and peace fell through the land, the powerful legends disbanded; returning to where they had originally came from. Peace fell over the land and the pokemon returned to the depths of the ocean, never to be seen again. Until one day when the world would need It's power once more should the World's most power group of pokemon become a stray once again.
Several Hundred years past and mankind had settled all over Kyushu and the legend war became nothing but a myth. However deep within the region an organization called Team Infinity began experimenting with Pokemon DNA. As a result several hundred angry pokemon created. As these angry creatures escaped into the wild, many other pokemon became angry; this include the more powerful legendary Pokemon. The balance that once held, is slowly tearing apart as legends across the world are Primed for war once again in the Kyushu Region.
Is this all part of team Infinity's plan to lure out the pokemon of the sea or are they working on something else more sinister? Will the humans and Pokémon of today be able to accomplish what the world of yesterday almost could not or will the universe collapse on itself from being unbalanced? What are these strange sighting that are beng reports from all across the Region?